CCN Nodes¶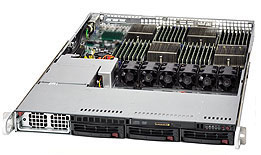 We have 15 supermicro nodes with 48 cores, 64GB of RAM and QDR Infiniband. These were previously part of "Taurus" but were moved to Apocrita after the demise of Taurus.
Despite their age, they remain useful for parallel jobs due to their many cores, RAM and infiniband connections.
| CCN | |
| --- | --- |
| Count | 15 |
| Processor | 4 x 12 Core AMD Opteron 6172 (K10) |
| Cores/Node | 48 |
| RAM | 64GB |
| TMP Size | 403GB |
| Interconnect | QDR Infiniband |
---
Notes¶
The cpus each have 12 cores but share a floating point unit between each pair of cores. You may (or may not) find that the performance of your code improves when the nodes are only half subscribed.
Only the parallel pe is available on these nodes. See the parallel job section.
Code compiled with Intel compiler, pgi and gcc give significant performance differences, due to different library implementations and CPU features. The best practice is to benchmark your code with the different compilers.