Guest collections¶
Within your lab share on Apocrita there is a Globus folder. This is the folder you are accessing from the Globus web interface. All other parent folders will not be accessible. Access to sub-folders may be limited, depending on your level of access, and permissions set on the folder.
To create a guest collection click Collections, search for your lab share and click the arrow. The share created by us should be a managed mapped collection. In this example, we are going to create a guest collection on the ITSR-Testing lab share.

Click the Collections tab and then the Add a Guest Collection button.

If you have no account credentials previously registered on Globus, click the register one now link and select your "Local Account" from the drop down list on the next page. Click Continue.

You only need to add a Directory and a Display Name to create the collection. We recommend setting the Directory to / as this will allow access to all folders within the lab share's Globus directory but feel free to set another path if required. For your convenience, we also recommend setting the name the same as your Apocrita lab share so it is easier for lab members to search for.
The remaining fields can be left blank and updated later.
For security, we suggest setting the transfer encryption.
To see all available options, click the view more fields link.
Click Create Collection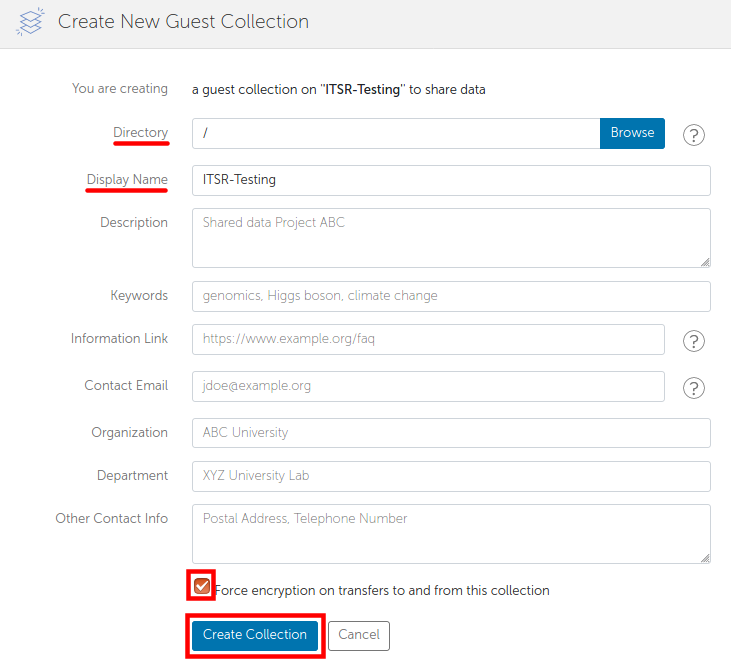 If you see a "Authentication/Consent Required" message, firstly click Continue, select an Identity and then click Allow to continue with the guest collection creation.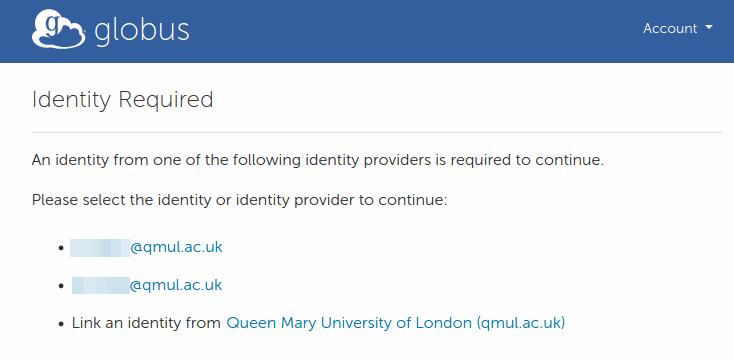 If prompted, click Create Collection a second time.
You should now be able to transfer and share data within your guest collection on Apocrita.
Support from ITS Research
If you need support with your guest collection you will need to add a member of ITS Research so they can have access.